I am taking inspiration from recent events in order to talk about Venice, the Venetian lagoon and sustainable tourism.
In recent months there has been a lot of talk about Venice, high water (high tide correctly) and lagoon. The extent of the last high water made more evident than ever how a great and dangerous change is taking place. Taking into account sustainability is now something we owe to the environment. And to Venice as well.
Well, I am not an expert and I do not want to talk about things I do not know. What I want is to reassure all friends, especially foreigners: no, there is no risk of drowning. Unless you swim in the canal, or jump off a bridge, but this goes under the name of imbecility. At most, if you like walking barefoot in the high water you could meet a pantegana (big, big rat) and get the "samoro nero" (distemper) otherwise it's all right, you can continue to visit Venice. I am joking… but this is to highlight some tourists' bad behaviours . A little more respect would be really appreciated. Ok, I am a bit mean but we all have – as human beings – our faults towards Venice and towards the planet.
Once again I need to start from the high water and from all the controversies that have arisen for the fundraising launched by an Italian TV. The perception is "in Venice they are all rich". I do not have any evidence of that and, just to make it clear "Venice is a world heritage site" that's it. The funding went to Pellestrina, which is a part of Venice, but certainly it is not in the historic center. There is a whole world that lies outside the well known tourist destinations. A beautiful and (almost …) uncontaminated world, a natural environment that must be enhanced and visited, always with a great respect . We need to preserve it.
This is just the prelude for telling a story of a different environment, with its own poetry. An environment that in my opinion gives its best in the winter period when, with a clear sky, the mountains embrace the sea. Today we will visit a small part of the Venetian lagoon which is part of the Cavallino Treporti tourist park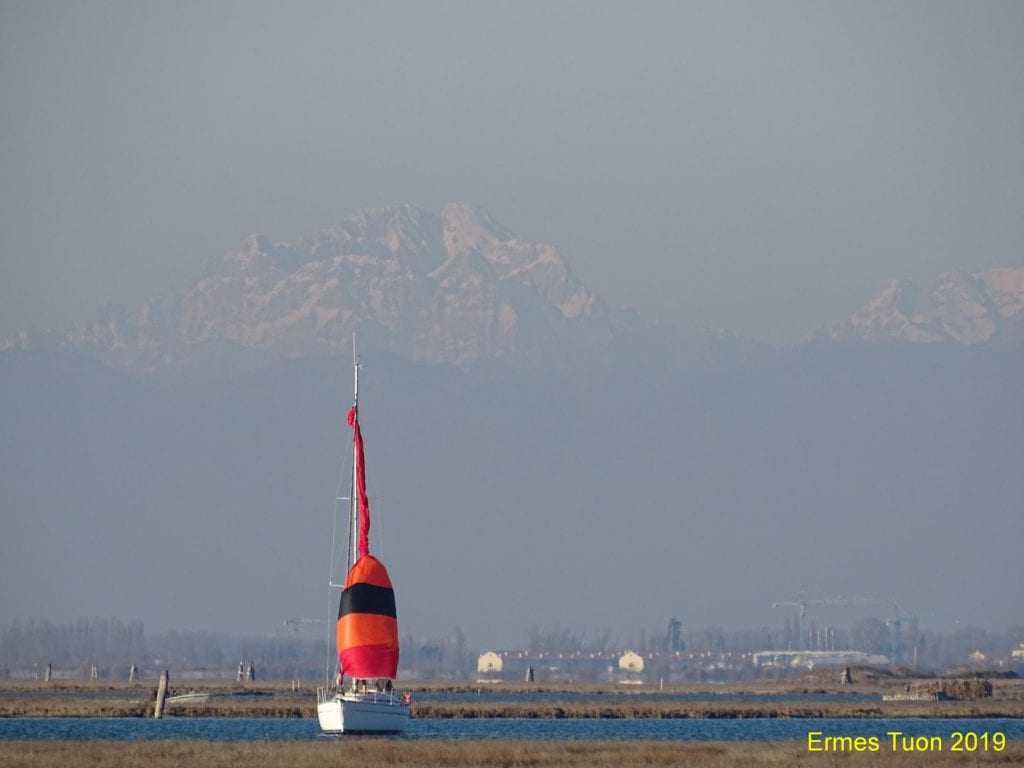 Lio Piccolo
Only a few people are here in winter. It is a bit difficult to find a restaurant where to eat, but the scenery is absolutely amazing and you can settle for a sandwich. So here we are to discover Lio Piccolo
Lio Piccolo a village in the lagoon, thus reads the tourist information sign. It is actually a tiny little village. Some houses, Palazzo Boldù, the Church of Santa Maria della Neve, the bell tower. Picturesque, but its main strength is the landscape of the lagoon, the labyrinth of canals and the quiet reigning everywhere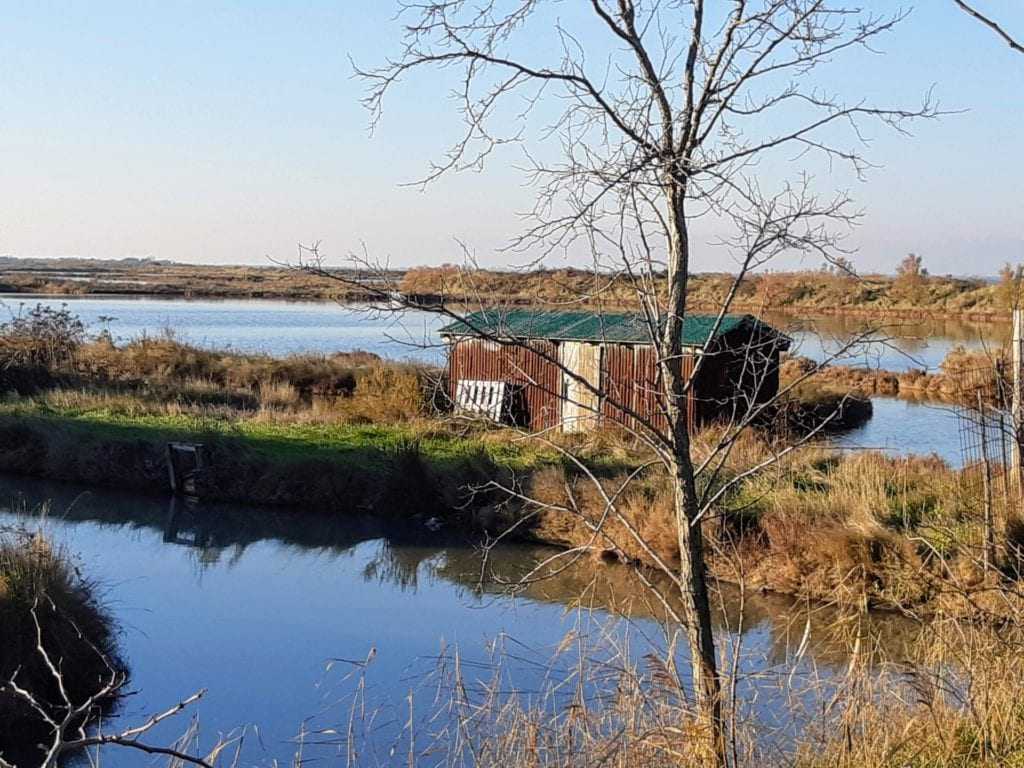 Thanks to this peace, pink flamingos have returned – or maybe they have just arrived, I don't know-. Flamingos are not the only species living there. In the whole area there are a lot of birds, we saw many egrets and herons. We were able to see flamingos only from a distance. It was too late to attempt to get closer as the sun was going down. We will try again.
And it is precisely at sunset that the colors become spectacular. It's a triumph of light and shadow, the red of the sky reflected on the water, a fishing net that is "in the shadow of the last sun"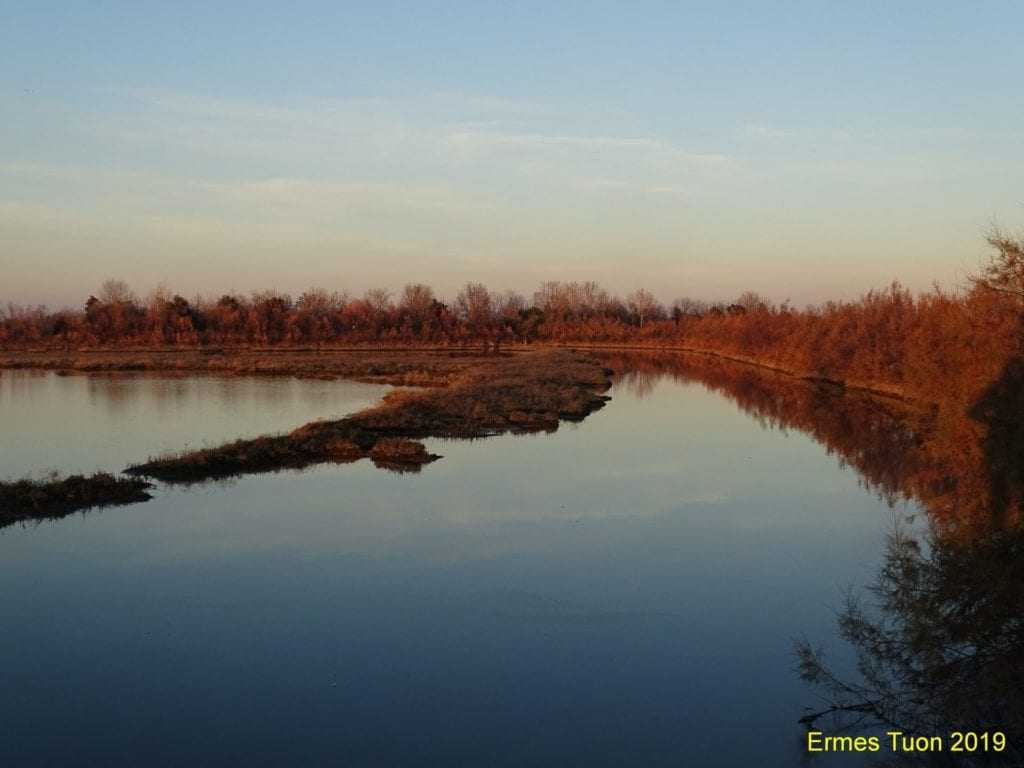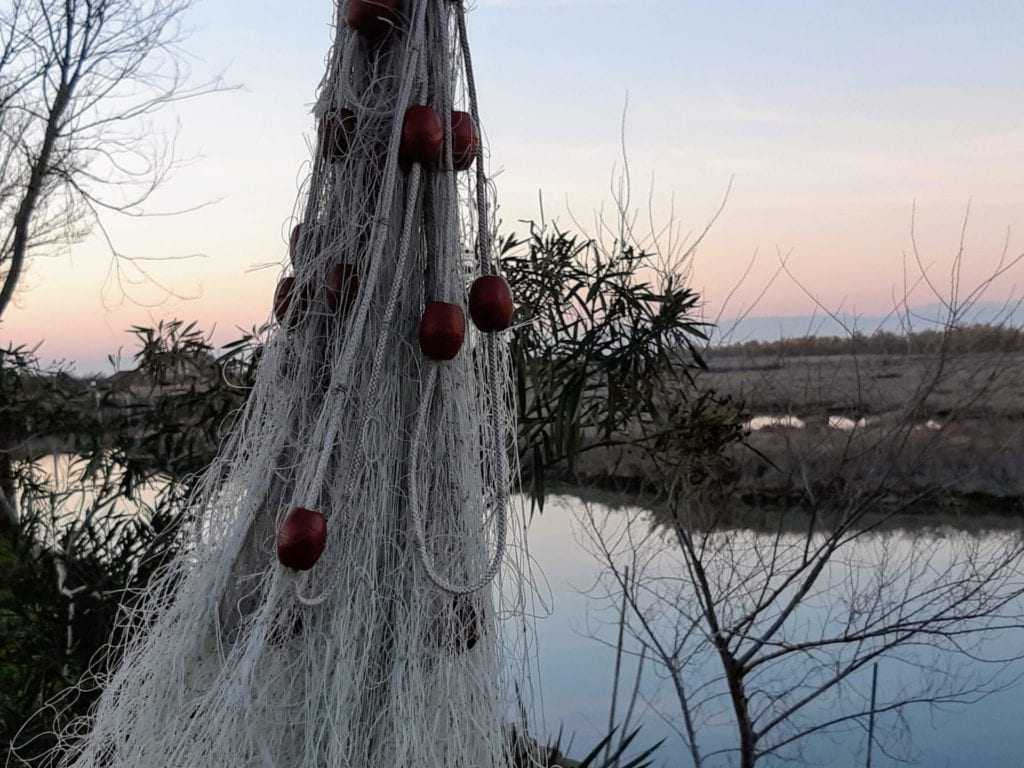 The lagoon and sustainability
Isn't it worth moving a bit from Venice to admire what surrounds it? Venice without the lagoon would not exist. The lagoon is a complex system that must be preserved, enhanced and people must be aware of it. And above all they must respect it. High water, indeed granda as the one in November, is only one of the problems that made the world discover how fragile Venice is. But there are other too. Just as an example: the increase of the water temperature of the lagoon and the consequent change in fish fauna. Climate change, climate crisis are issues that we have already discussed in Q11 but it is worth mentioning them again.
As an association we like to let people know about our territory and the Italian territory in general . We strongly believe in sustainable tourism. A slow tourism that moves on foot or by bicycle. And these areas of the lagoon are more than suitable – we expect (only) people to be respectful. We don't ask for much. So let's take a walk in Venice and Venetian lagoon. Enjoy your walk! Have fun, walk and listen to the silence